WOW - Events Featuring Willcox Wines
Note: We post a list of our favorite events each month. If you would like to submit an event for consideration, please e-mail us at events@willcoxwines.com or post your event on our Facebook page facebook.com/winesofwillcox
Fall 2014 Events
​
Friday, September 12 from 7pm-10pm in Tucson - St. Philip's Plaza
Flying Leap Vineyards and Danser Studio
join together to offer a fun evening of fitness and wine at
St. Philip's Plaza (River & Campbell)
The evening includes one Pound Class and a glass of wine afterward just steps away at the FLV tasting room -- space is limited
Event details or to reserve your spot: https://www.facebook.com/events/1387506568176551/
​
Saturday, September 13th from 4-7pm in Bisbee
TRUST Artist Reception at the
Flying Leap Vineyards tasting room
67 Main Street, Old Bisbee
Meet fiber artist MaryAnn Ead (Pajaritaflora) at the opening reception for her one-month guest show presented by TRUST. Explore her intricate fabric wall-hangings inspired by the mountains, grasses, and skies of the Southern Arizona borderlands.
FB event details: https://www.facebook.com/events/1491890601048926/
​
Saturday, October 4 from 11am-4pm in the Chiricahua Foothills near Willcox
Lawrence Dunham Vineyards Harvest Celebration Lunch
Call LDV for details: (602) 320-1485
​
Saturday, October 18 at the TRUST Gallery
& Flying Leap Vineyards Tasting Room
in historic downtown Willcox from 12pm-5pm
Special one-day TRUST fine art show during the first day of the Willcox Wine Country Fall Festival
Meet Thomas and Kim of TRUST and see exciting original artworks by TRUST artists'
​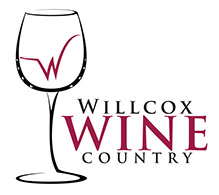 Saturday & Sunday, October 18 and 19 in Historic Downtown Willcox
Willcox Wine Country Fall Festival - click here to scroll down to more details
​
Saturday, October 18 from 3pm-11pm Arizona Stronghold's "Tour de Terroir" and FIRST EVER Bonita Springs Vineyard Open House near Willcox
Be among the first to visit this vineyard outside of Willcox. Fun games for kids of all ages, wine by the glass and bottle, and live music -- PLUS guests are invited to bring camping gear and stay overnight! $8 for Arizona Stronghold Vineyards wine club members, $15 for non-club members (Ticket price includes food)
Location: Bonita Springs Vineyard, 15732 W Ash Creek Rd., Willcox, AZ 85643
See this event on Facebook: https://www.facebook.com/events/308068512706429/
​
Friday & Saturday, November 14 and 15 in Phoenix
Arizona Wine Growers Association Festival at the Farm
Annual event featuring more than 30 Arizona wine producers in one location - The Farm at South Mountain (32nd Street and Southern). Wine tasting, seminars, live auction, & more. This is an excellent opportunity to meet a lot of the hardworking folks in the Arizona wine industry, taste their wines, & mingle with lots of other people who also love AZ wine!
Details at: http://www.azwinefestivalatthefarm.com/
​